Working in networked ways is fundamentally different than traditional ways of working. Organizations can commit to a network approach yet not fully realize all the pieces and behaviors needed to make it actually work. Leaders and organizations can easily slip back into traditional ways of working that can undermine progress on creating a collaborative culture and network development.
On Friday, June 10th, Carole Martin and I co-led a webinar on this topic, sponsored by the Leadership Learning Community. We shared our insights about which networks get traction and grow and which ones stumble, related to these themes:
What does organization readiness to embrace the network approach "look like"? How do board and staff members organize their time, priorities, and mindset differently?
How does leading look different both within and outside your organization?
What are some key pitfalls and lessons learned that you can keep in mind as you design for a more inclusive, joyous and connected way of working?
Here is a link to a recording of the webinar and slides, at Leadership Learning Community's blog.
This link has our answers to questions that came up on the webinar we didn't have time to answer.
Resources
Here are some resources that we referenced and/or that inform our thinking and work:
How the role of boards needs to shift: This article, Governance as Leadership, highlights the different mindsets boards need to bring to different aspects of governing. In particular, boards need to complement their traditional fiduciary and strategic focus with a generative focus, where they frame problems and make sense of ambiguous complex situations.
Network mapping – This page provides more details on network mapping and under Our Network on this page there is a list of the colleagues we work with to do network maps.
Leadership with a network mindset – This report on Leadership & Networks from Leadership Learning Community offers more details about a network mindset.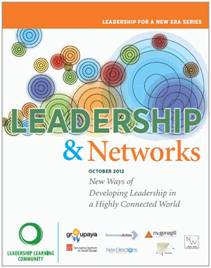 Organizational leadership vs. network leadership – The table comparing these two styles is adapted from one in this report on Leadership & Collective Impact from Leadership Learning Community.
Leading with questions – Click here to read various blogs by Beth Tener about how to frame strategic questions.
Tips for navigating uncertainty – This blog offers leaders insights on how to get comfortable stepping into the unknown to lead groups to find the answers together.
Books