I have written previously about collaborations with Madeline Snow. She and I are both enthusiastic fans of ways to design and facilitate meetings that are more engaging and participatory than traditional meetings. So when Madeline called to share an opportunity to experiment with these techniques for a new initiative she and colleagues at the University of Massachusetts Lowell (UMass Lowell) were planning, I barely got the details and said "yes, I'm in."
The University was looking to find ways to collaborate with organizations in the community to plan events around Earth Day. The previous year, a Lowell professor in Political Science, happened to sit next to a local artist/puppeteer at a meeting. Their conversation led to a small collaboration around an Earth Day parade, which is now being taken to a greater scale to create and connect various Earth Day events around the City.
The plan was for UMass Lowell to host an Earth Day Planning Forum inviting a wide range of organizations to share ideas, plans and opportunities for making Lowell Earth Day Celebration 2016 a city-wide, month-long celebration of the arts, nature and sustainability. Madeline and I designed an agenda for the Forum to develop plans for Earth Day activities, while also giving people an experience of participatory meeting techniques. These techniques offer the added benefits of helping people meet and connect with many others in the room and find those with similar interests. In my introductory remarks, I said that the intention of the meeting design was to create a web of connections, similar to mycelium, a web underneath a healthy forest that sprouts mushrooms and exchanges nutrients with trees.
The meeting was held in a beautiful meeting room with large windows overlooking the Merrimac River, as the fall foliage was at its height. There was a great turnout with people from a wide range of organizations such as the City departments, University staff, the National Park Service, a local high school science teacher who runs the environmental club with several of her students, and environmental, health and community non-profits. The day was split into three parts:
People introduced themselves and offered one word to describe Lowell. This served as a colorful way to remind everyone of the place they had in common, experienced from many perspectives.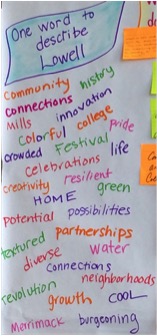 Small conversations were held in a World Café format around the question: What could Lowell Earth Day 2016 do with and for the Lowell community? People discussed this in groups of four and then the groups mixed, sharing themes from the previous conversation, and generating more ideas. The World Café format is designed to generate lots of those serendipitous connections that spur innovative ideas, like the way the idea for this Earth Day initiative emerged when two people who worked in different places got to talking and came up with a new idea of how to work together. As I listened in on conversations, I could hear new connections being made not only for Earth Day plans but also for how people's work could connect as well. Many ideas emerged, as well as some common themes, including the vision that Earth Day events would continue to grow each year.
Using Open Space Technology, we asked participants to suggest topics for conversation and assigned spaces for groups to discuss these, encouraging people to join whichever conversation they were drawn to, and move around among them. Instead of the facilitators mapping out every part of the day, this technique opens up the format, trusting the group to identify and generate good timely ideas. Sure enough, some great suggestions emerged that the facilitation team would likely not have come up with, for example:
Planning activities in each neighborhood. Previous to this, the focus had been on events downtown.
The river. A group explored what events could be done along the river and how that could be an organizing theme that connected events and organizations.
Community/marketing/publicity. Another group jumped into conversation about how the mailing lists of all of the organizations could be connected to promote Earth Day events. People recognized that this will enable them to better communicate and connect their organizations' work and events in an ongoing way.
The feedback from the planning forum was quite positive and an ambitious plan of activities is now underway. Reflecting on the experience, it is a great example of a simple way that a university can use its position as a convener to bring people together and strengthen connections with and within its community. A university can become insular and inward focused, even within its campus, the departments many not talk and share ideas and work. Likewise, within a community, organizations working on similar issues are often not aware of each others work or too busy to make the connections.
The planning forum enabled the many parts of the community with an interest in the environment and the arts to "put the pieces together in new ways" while also experiencing meeting techniques they can use within their own organizations. The meeting design enabled many new connections to be made and the participants now have the opportunity to work together immediately on a creative tangible project with a time line, which will likely strengthen the connections. Within the group, you could sense the desire for Lowell Earth Day Celebration to be an annual event that will grow and expand in each successive year. May it be so!