I'm pleased to share this guest blog post from John Tener, my dad, who has been an inspiration to me in his persistence in working for positive social change over decades. 
"Tommy" Menino, 20 year-long mayor of Boston, died a month ago…  He was eulogized and buried on November 3, the day before the election.  His service as mayor happened to begin in 1993, the year I moved to Boston.  I saw and experienced daily his magnificent gifts of vision and leadership from my North End apartment, and my law office a few blocks away, directly across the street from City Hall, until I moved to a "leafy" suburb seven years ago, in 2007.
It will take a book, perhaps several books, to adequately describe and quantify the amazing impact Tom Menino had on Boston, this most magnificent of great cities.  His impact certainly cannot be adequately expressed in a short essay.
So rather than attempt the impossible, I choose instead to focus on just one measure of his greatness which personally benefitted me, and still does. It may, in itself, over time rank as significant as any public works project, economic development initiative, or the thousands of other visionary changes, large and small, that he brought to the neighborhoods and daily lives of Bostonians over the past twenty years.
When I first moved to Boston, I fell in with a "biker crowd;" that is, I joined a fledging community of bicycle enthusiasts who were struggling mightily to gain the respect and cooperation of city and regional transportation officials in making cycling an important part of city life, both recreationally and for daily transportation. During the 90's and early 2000's, cycling in Boston was risky; indeed, Boston was ranked nationally as one of the worst cities for cycling in the country.
I became active in the MassBike Coalition, a loose, volunteer group of recreational bikers, bike messengers, urban transportation enthusiasts, and bike safety gurus. Minutes of our monthly meetings back then read like some surreal dream one has about "making the world a better place." We attended public meetings, sought sessions with road designers and traffic cops, "raised awareness" by reaching out to green community activists, bike shops, etc. all with a mind to "transforming" Boston from "worst to first" for cycling.
Few fundamental changes happened for years. Rail-to-trail initiatives were beginning to have some impact in the state, and region, but the dream of everyday cycling to work, for recreation, for families, seemed far off, if obtainable at all. I continued to explore Boston, and far reaches of Massachusetts and New England by bike, alone or with friends, and found it enthralling. I continued to join charity rides such as the Sturbridge-to-Provincetown annual "Pan Mass Challenge" (for the Jimmy Fund cancer research at Dana Farber), and several AIDS rides from Boston to New York, honoring three close friends who had died from AIDS in the late 80's and early 90's.
Then a couple of pivotal things happened. I visited Amsterdam, and Copenhagen, and saw first-hand what a city can look like when cycling is made a priority. I visited Boulder, Colorado, and Portland, Oregon, and saw the same thing, though perhaps on a more modest scale.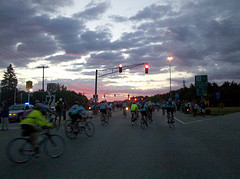 And then in August, 1999, in the first hour of a three-day, AIDS ride from Boston to New York City, I was pedaling with my daughter Beth along a wide expanse of city street. We were leaving Boston, joined by a silent group of some 2600 other cyclists, with police escorts, side streets blocked off, and only the faint clicks of an occasional Shimano gear shifting. Beth, an experienced cyclist herself (she had ridden cross-country following college graduation for an American Lung Association charity), turned to me as we were relishing the feeling of fresh air, warm sunshine, and the spector of a couple of thousand bikers. She said, simply, "Hold the vision, Dad, hold the vision."
I so I did, for months and years afterward, continuing to push with other green activists for change in Boston's acceptance of cycling as a vital part of city life.
However, the change I and others sought, the "vision" of bicycles accepted and encouraged in Boston and neighboring cities ultimately came about only because Mayor Tommy Menino came to believe also in the vision of Boston as a cycling city. Menino appointed a "bike czar," city planners at Menino's direction began considering biking in key traffic and engineering studies and planning, and eventually, while still very much a work in progress, Boston has become, due to "Tommy's" vision and political muscle, one of the nation's more advanced cycling cities. "HubWay" is a expanding, popular, short-term bike rental service throughout the city and nearby suburbs, used by thousands of tourists and college students every day. Bike lanes, and a growing, though still insufficient, number of bike racks, are evident throughout the city. Police receive training in bike safety and laws protecting cyclists. while the city's subway and commuter rail system is slowly making space, literally, to accommodate cyclists carrying bikes aboard. Bikes increasingly are replacing automobiles as the preferred transportation mode for students and commuters alike, because biking is inexpensive, healthy, fun, and now safe. Boston has climbed from near the bottom to 14th in the nation as a cycling-friendly city.
Across the street from Tom Menino's long-occupied corner office in City Hall stands the larger-than-life statute of former Mayor Kevin White, who until Menino, was thought to be Boston's finest mayor. Kevin White, like Menino, was a visionary, and is credited with bringing Boston out of the dark shadows of racial discord in the 70's to a new beginning in development and racial harmony. One of the many enduring quotes of White's stands near his statue outside of Faneuil Hall: "The virtues of pride and belonging as evident in Boston's neighborhoods can be the soil in which flourishes a city of hope, of healing, and of greatness." Menino, too, concentrated on the neighborhoods while at the same time oversaw the greatest economic expansion and growth in Boston's history.
Just outside the Menino office on City Hall Plaza also stands the 6'9″ statute of Celtic legend Bill Russell. Numerous well-known quotes of Russell's are set in stone surrounding his towering physique: three seem most apt for Tom Menino. "Commitment separates those who live their dreams from those who live their lives regretting the opportunities they have squandered." Imagination and creative thinking are the realization that there's no particular virtue in doing things the way they've always been done." Resolve–never go out there to see what happens; go out there to make things happen."
Richard Rodgers and Oscar Hammerstein perhaps said it best in "South Pacific:"
"You gotta have a dream, if you don't have a dream, How you gonna have a dream come true?"