Last week, I had the opportunity to tour the Spiket River Greenway, a community restoration initiative in Lawrence, MA that provides an inspiring story of vision, collaboration, and persistence over decades. The tour was part of a "learning journey" organized as the kick-off event of the Great Neighborhoods Network sponsored by the MA Smart Growth Alliance (MSGA.) New Directions Collaborative worked with MSGA and a design team to create and help facilitate the event and we were thrilled to see over 30 people turn out for the event from federal, state and local government, business, communities, and non-profits. In the invitation to the event MSGA wrote, "During its heyday in the mid-19th century, Lawrence – built to serve the textile mills at its core — was comprised of residential, urban mixed-use neighborhoods that were walkable, bustling and ethnically diverse. As textile employment dried up, the city has struggled with high unemployment and blight, and the legacy of the industrial past, environmental contamination." The learning journey offered an opportunity to:
See how Groundwork Lawrence, Lawrence CommunityWorks, City government, residents, and many other partners have worked collectively to re-develop Lawrence's North Canal District into a 21st century 'urban village' through environmental, housing, transportation and placemaking initiatives.
Hear about how diverse and unusual partnerships and a commitment to network organizing were key to these local efforts.
Tour the newly completed Spicket River Greenway, where our host Groundwork Lawrence shared their experiences with planning and implementation of parks, urban gardens, greenway development and maintenance.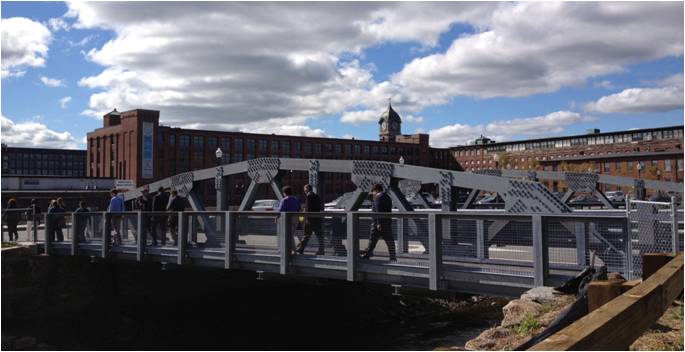 The learning journey began with a short video and slide show with Brad Buscher and Heather McCann of Groundwork Lawrence sharing the history of the Spicket River Greenway, how it fit into the historical context of Lawrence, and the 10 year process of how the community achieved dual goals of riverfront restoration and neighborhood revitalization. They told the story using many "before and after" photos, such as an abandoned paved site being transformed into a green city park with playgrounds and community gardens; and an overgrown littered muddy stream being cleaned up and linked with a beautiful multi-use trail. This link has more details and a video about "this 3.5 mile "emerald bracelet" of green spaces and walking paths connecting parks and open space through multiple neighborhoods."
The learning journey highlight was a walking tour to see several elements of the revitalization including Union Crossing (a former textile mill building that has been redeveloped into a thriving mixed-use neighborhood,) the greenway, a major new bridge that serves a gateway into Lawrence, and the site of 30-year $80-million journey to remediate the site of a former paper mill. The learning and Q&A dialogue was enhanced by the participation of City staff, consultants, and regional planners who had been active in this work who could also speak to what it took.
Some of the key lessons that emerged were:
Persistence and tenacity – The work and revitalization that went into the beautiful urban landscape we stood on took decades. One of the consultants recalled that the original idea for the new bridge came from a City Manager in the 1960's. Jessica Andors of Lawrence Community Works mentioned how often the Greenway or other redevelopment projects stopped and started, with various hurdles or budget challenges. Nevertheless, they kept their focus on the vision and the plan and it eventually came to fruition.
Cross-sector partnerships and trust – The multiple complex community restoration efforts all involved partnerships among government, business, and in-depth community engagement with the work of Groundwork Lawrence and Lawrence CommuintyWorks. The funds to pull off these expensive long-term improvements were woven together from various government sources and private investment. The Greenway development had strong support and commitment from the City and Department of Public Works. It was clear that to pull this off, there had to be a strong civic collaboration, which MSGA's Great Neighborhoods is about – creating a "social architecture" that enables people in a place to carry out this vision over time, through various political leaders and movement of residents in and out.
Importance of visible progress to enhancing community engagement – When community members see a decrepit abandoned lot turn into a well-maintained park, the design of which they were able to influence, this turns into an opportunity to drive a more comprehensive vision and more community engagement. It is important to have ribbon cuttings and celebrate the success as a reminder to each other that we can have big visions and get things done. An annual Spiket River Clean-up engages 400 young adults in cleaning up the river each year and this has helped it get less littered over time.
Following the walking tour, we brainstormed some ideas for a current challenge Lawrence is facing. The event concluded by hearing from each participant about a highlight of what they appreciated/learned. Some common themes were how exciting it was to see the projects on the ground and learn about the decision-making, collaboration, and scale and complexity of the effort.