When doing collaborative work, a common challenge is that people want to move right to action, and they under-invest or shortcut the foundational work of building relationships, aligning work, and learning together. This framework illustrates the various dimensions of collaborative work. A focus on action alone misses all the other rich fruits that can come from other forms of collaboration.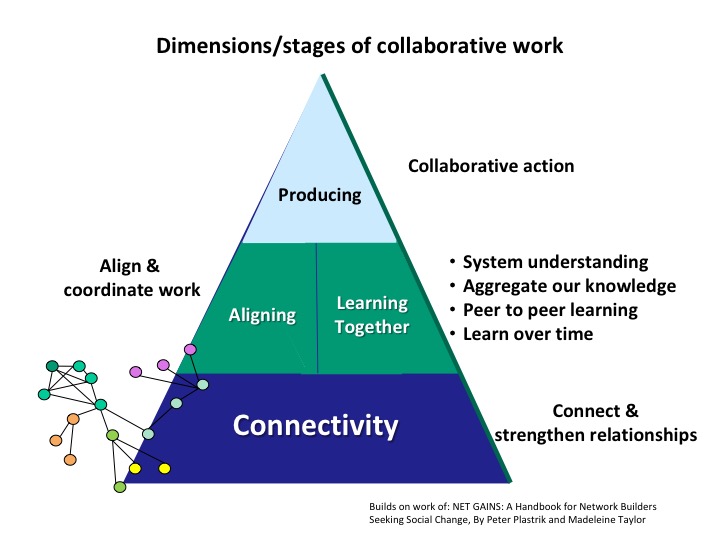 Connectivity –Each relationship made or strengthened among those in a collaboration opens the opportunity for learning, information exchange, and micro-collaborations that can generate a range of benefits. Relationships can be strengthened by incorporating ways for people to get to know each other, such as discussing values, storytelling about what gives their life and work meaning, breaking bread, or going on learning journeys or field trips. Beginning a meeting with Impromptu Networking, where people stand and have paired conversations and then shift to another pair is a simple way to build relationships and connections.
Align and coordinate work – In work with collaborative initiatives, we use quick maps at many of our meetings to help people find and connect to others doing similar or complementary work, and for a more comprehensive view, we use network mapping. In addition, it can be helpful to identify who is working on what and what skills and resources each organization, department or person can bring. This example from the Vermont Farm to Plate Network shows how technical service providers mapped who offered what services so they could offer a continuum of services to farm-based businesses, from business inception to exit.
Learning Together– The ability to collectively learn and adapt is key to the healthy evolution and innovation process in organizations and society. In the individualistic and competitive culture of the West, this is an aspect of collaborative work that is often overlooked. Some learning can happen only through combining the perspectives of many people. I'd like to highlight several distinct kinds of learning together:
Books could be written about each of these dimensions, which I've only touched on briefly. In any collaboration, investing time in each of these areas will generate benefits both for the individual participants and the shared purpose of the work together.
Join us for this upcoming on-line workshop series where I'll be sharing practical methods for designing meetings and collaborative work that can generate benefits like these.