Imagine this time of sustainability transition as a wave, where all along the leading edge are people and organizations inventing new ways of using clean energy, renewing democracy, creating businesses that solve social problems, and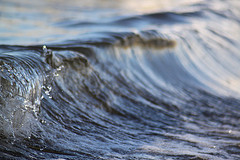 thousands of other innovations to create a better future. Each person or initiative, in their own way, has to go up against the forces of the status quo that resist change, the Coalition of No, as blogger Seth Godin names it.
When we can organize the leaders of change into networks they can have an amplifying and strengthening effect. Allying with others to bring in the new is what is needed. In a commencement speech in 2011 at Berkeley Journalism School Robert Krulwich, a science journalist who hosts the radio program Radiolab, encouraged the graduates to trust their own ideas and ally with like-minded friends bringing in the new "music." His advice, as follows, applies to innovators everywhere:
The people in charge, of course, don't want to change. They like the music they've got. To the newcomers, they say, "Wait your turn". But in a world like this… rampant with new technologies, and new ways to do things, the newcomers… that means you… you here today, you have to trust your music…
So for this age, for your time, I want you to just think about this: Think about NOT waiting your turn.
Instead, think about getting together with friends that you admire, or envy. Think about entrepreneuring. Think about NOT waiting for a company to call you up. Think about not giving your heart to a bunch of adults you don't know. Think about horizontal loyalty. Think about turning to people you already know, who are your friends, or friends of their friends and making something that makes sense to you together, that is as beautiful or as true as you can make it.
He also speaks to how our networks of relationships are what really provide security:
And when it comes to security, to protection, your friends may take better care of you than CBS took care of Charles Kuralt in the end. In every career, your job is to make and tell stories, of course. You will build a body of work, but you will also build a body of affection, with the people you've helped who've helped you back.
And maybe that's your way into Troy. There you are, on the beach, with the other newbies, looking up. Maybe somebody inside will throw you a key and let you in… But more likely, most of you will have to find your own Trojan Horse.
And maybe, for your generation, the Trojan Horse is what you've got, your talent, backed by a legion of friends. Not friends in high places. This is the era of Friends in Low Places. The ones you meet now, who will notice you, challenge you, work with you, and watch your back. Maybe they will be your strength.

With intentional weaving on networks to advance sustainability goals, we can connect the newbies with good ideas to friends in high places, friends who can be mentors and collaborators, and together create better policies, technologies, and ways of working together for a positive future.