"The essential challenge is to transform the isolation and self-interest within our communities into connectedness and caring for the whole." – Peter Block
One promising area for reconnecting people in communities is the Farm to School movement. Communities across the country are implementing initiatives to increase the amount of local food served in school cafeterias, build school gardens, and integrate understanding of local food and nutrition into curriculum. We are working with the New Hampshire Farm to School program and a consortium of partners to accelerate progress of these initiatives.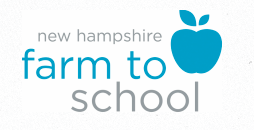 The consortium of partners is working with an initial group of three "Beacon Communities," providing facilitation, technical assistance, and other resources to help them take their Farm to School initiatives to the next level. We collaborate with a local team in each community to facilitate meetings that bring together a cross section of community members to explore the potential of doing something bigger related to healthy, local food access for kids and the community. The aim is to find ways to share, connect, align, and amplify the work already underway and work together to do more.
Amplifying Connections in Meeting Design
In designing each meeting, a key focus was how to strengthen connections locally among all parts of the community that play a role in healthy, local food access and education for kids. Two meeting design elements that worked well were cross-pollinating small group conversations and connecting needs to resources.
Cross-pollinating small group conversations: At the first meeting in each community, we used the World Café process to get small groups exchanging ideas on these questions:
Share a story of something positive happening in healthy food access/farm to school that you don't think others know about. What are common themes?
What would a successful healthy food access/farm to school program look like to students, teachers, cafeteria staff, farmers and community members?
Building on the ideas that emerged, such as getting local food into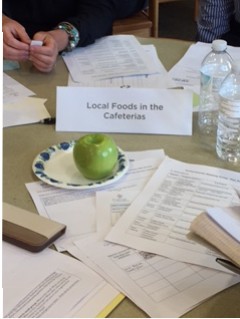 cafeterias, we used an Open Space format, assigning a topic to each table and inviting people to join a conversation on the topic of their interest. Handouts were provided to guide the conversations and take notes on. Then one or two people stayed at each table and everyone else was invited to mix among the other tables to provide additional input to those topics.
This second round of mixing generated more connections and information exchange among participants. It also allowed people to find connections among the topics.
Connecting needs to resources: At the start of a community meeting, we asked each person to think of one specific need they had in their work that someone else in the room might be able to help with. As we did the round of introductions, each person shared their name, organization/role, and need. Quickly, we asked who in the room might have suggestions, and the person with the need wrote down ideas and/or got the names of who to follow up with afterwards. With a group of close to 30 people, this took about 20 minutes. Examples of connections made were:
Someone needed youth volunteers for farming projects; another suggested they connect with a local restorative justice initiative looking for productive community service projects for youth.
Someone was in early stages of writing grants to fund a new local food-related project and wanted advice on grant writing; three other people in the room had lots of experience with writing grants.
A person from the local Chamber of Commerce was looking for ways businesses could fit in. A science teacher from the middle school who oversees the school garden shared a win-win story where the kids arranged to sell their garden tomatoes and basil to Flatbread Pizza. The restaurant promoted a local foods night featuring the school garden produce and got families from the community to come in for a meal.
Through these conversations people received tangible ideas and suggestions to help advance their current work, learned how much was already going on, and discovered who in the community could provide resources. They also experienced the value of strengthening local networks of generous exchange.
This quote from Movement Net Labs is a good principle to go by:
"No one should go home unconnected."