"It's not just about delivering content to members, it's about the convening power
to help members discover each other."
– Clay Shirky
Continuing our exploration of what it means to use a network mindset in developing organizational strategies, this blog provides some guidance on how a peer to peer network is different than a traditional membership/association structure. Starting with a visual, in a professional membership organization, the model is the organization at the center or top providing information, training, conferences, and other opportunities. Members pay dues or participate to get benefits/value from the organization.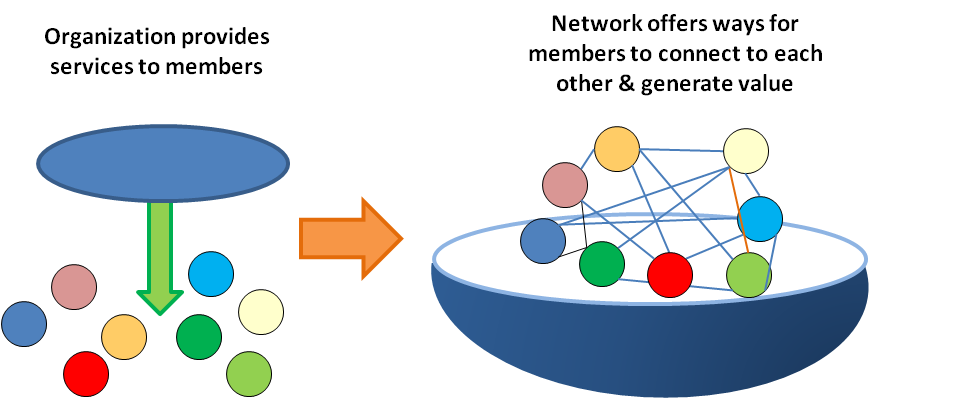 In a network structure, the focus is on creating structures that enable the network members to connect with each other. While the network may provide some information and training opportunities, the priority is to connect and distill the collective experience and shared expertise of the network members. Instead of the organization providing all the services, the network members themselves identify and contribute/participate in creating activities and/or sharing information that will be of value, with the organization providing the support and infrastructure to enable this. Members help create the benefits/value with support of the organization so there is a focus on give and receive.
There can be hybrids that combine elements of both. Here are some examples of activities to provide a flavor of the distinctions between the two approaches:
 
Traditional Membership Organization
Peer-Learning Network
News and updates flow from organization out to members

– On-line platforms where members can share and exchange ideas/resources with each other
– Twitter or other social media offer ways for people to stay connected and share info
Traditional conference formats with keynote speakers, panels of speakers, and Q&A

Range of interactive meetings and forums designed to connect people and access the collective intelligence in the network (e.g., World Café, dialogues, peer-learning challenge brainstorms, , small group discussion, web chats)
Central organization determines training modules and other services

Network members are surveyed often and help shape the network's activities, as well as serving in leadership roles in work groups or other activities
Publications and resources developed centrally
Resources and knowledge is developed using "crowdsourcing," drawing on the experiences across the network
The Urban Sustainability Directors Network is a good example of a peer-to-peer network. It connects municipal sustainability leaders from 100+ local governments in the US and Canada who face similar cross-cutting sustainability issues. It provides a forum to collaborate, to share best practices or to partner. Here are a few of the many activities that it offers, with a relatively small network staff:
Peer to peer user groups that are self-formed groups by USDN members to share operational questions and challenges for a particular field (e.g. instituting a citywide bike-sharing program.)
Working groups of interested members create tools and products, including a group that prototypes best practices.
On-line forum to discuss sustainability topics, where members can post questions and get answers from their peers.
For a peer network to be effective, its members need to "show up" and participate. A thriving network culture can be created by practicing these behaviors:
A commitment to contribute time and effort to the network and to collaborate with network peers
An ethic of generosity and "pay it forward," investing time/talents knowing you will benefit in other ways later
A focus on finding and making connections between people, e.g., learning about people/organization's strengths, needs, challenges, and latest news and introducing them to others and/or resources that could be helpful
"Narrating your work" – using Twitter or other social media to share insights with others in your field and commenting on their posts/blogs
Seeking out innovations and best practices and providing funding or other ways to scale and spread these innovations. See USDN's Innovation Fund as an example
A focus on learning and sharing openly about what works, what doesn't, and lessons learned.